Posted on July 11, 2018 - 10:34am
When I look back a year after my lung cancer diagnosis, I wish there were more resources, support, and education readily available for myself and my family. It was not until 10-11 months into my journey that I got connected into national lung cancer support groups, educational resources and different events focused on lung cancer. From the time I was connected to these support groups to now, my outlook on lung cancer has changed 180 degrees. I always believed I would beat the disease, but I did not have a picture of what beating lung cancer looked like nor did I understand what success would look like in my future.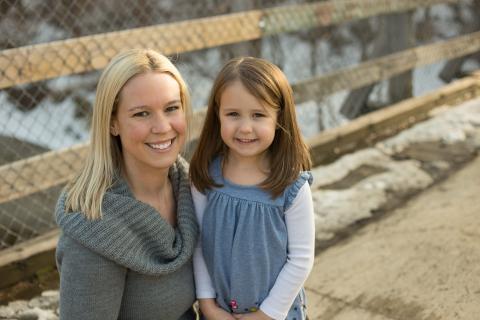 Since my diagnosis I have been blessed to be involved in a lot of advocacy events from speaking at walks, climbs, fund-raisers and doing television interviews. In doing these things, it has been healing for me as well as inspirational for others. I believe I am making a difference in lung cancer awareness and am going to continue fighting until there is a cure! I feel blessed now to be able to join the lung cancer fight. The biggest thing I have learned is to be proud of where I am physically and emotionally. 
Since connecting with LUNGevity and other cancer patients I have learned about first, second, third, and fourth line treatment options. I have learned more about research and met the people working to save our lives, knowing if we just fight to stay alive long enough the next breakthrough drug might be approved. Most importantly if we fight long enough, hopefully there is going to be a cure! We are in a whole new age of possibilities for cancer cures with technical advancements in Genetic and DNA research and development. It is important as a cancer patient and survivor to have faith and believe that more will be accomplished in the very near future.  I am honored that I get to educate people about the myths and realities of lung cancer. I have a chance to communicate the urgency needed to find a cure for lung cancer to keep us alive. Most importantly, to instill confidence and help people believe the fight is worth the effort. The more people we have in our court the stronger and better chance of beating this awful disease we all have!
If I had the ability to fight lung cancer with no restrictions the first thing I would do is support research from stem cells, because lung cancer is mutational in nature and the ability to identify the mutations on the front end of cell development will allow for prevention and a cure. The second thing I would do is educate and make changes to the environment. There are some very easy things we can do as a society to reduce our negative environmental factors, one being radon. I would like to ensure radon testing and mitigation is completed in all states, in all buildings that will reduce one major risk factor for lung cancer and help to prevent it. The last thing I would do is make fighting lung cancer more cost effective, at the current time the cost to fight and live with lung cancer is so devastating a lot of people are losing the means to continue fighting. Financial hardship and the emotional stress that causes does not allow those of us fighting to focus on the battle at hand rather, we constantly focus on how much more debt can I incur, how much longer can I afford to fight. By changing the enormous cost factor people fighting may have a better chance to fight.  I believe if those three things can occur we will be one step closer to finding a cure!
As I look at the blessings of this journey, I think the best and most rewarding thing has been my ability to share my story in a positive light. I have been more intentional with my life, and appreciate the little things more.  A lot of the time cancer is so scary, people are extremely sick and often don't get the opportunity to see and speak the light, but I have been blessed in that every challenge I have faced I have walked through with my support system but most importantly my faith has guided me through.
If there is a message I could communicate about lung cancer it is first and foremost, lung cancer can happen to anyone. It is not a smoker's disease anymore. Second, at the current time it is a terminal disease, there is no cure and we must work together to raise awareness, develop early diagnosis techniques and most importantly erase the stigma. Lastly, I would tell people to believe in those battling lung cancer as much as they do anyone else because we are strong, we are worth the fight, and we too deserve the best life possible. 
Blog category:
Awareness & advocacy
Living with lung cancer
Survivorship
Young adults