Posted on January 17, 2019 - 10:21am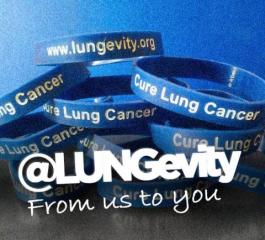 It's that exciting time of year that many people are making resolutions related to self-improvement and ways to affect positive, meaningful change in our communities. Why not commit to becoming a lung cancer advocate in 2019? A lung cancer advocate is a person willing to donate his or her time, talent, financial, or other resources to advance lung cancer awareness and funding to help save lives. LUNGevity has many tools and tips to help you get started!
1. Request our free Advocacy Toolkit.
LUNGevity can provide you with all of the resources you need to be an empowered lung cancer advocate. Our Advocacy Toolkit includes eye-opening lung cancer facts that you can use to educate and inspire people to take action. We'll also give you tips for sharing your personal story of how lung cancer has affected you. And we'll provide you with fun, creative ideas for planning and hosting an event in your own community!
You can request it here.
2. Stay up to date on the fight against lung cancer.
When you arm yourself with the latest information about lung cancer research, treatment, and statistics, you'll be prepared whenever the opportunity arises to share facts, compelling stories, and calls to action. Sign up to get periodic emails from LUNGevity delivered straight to your inbox!
3. Distribute patient education and support materials in your community.
Help others learn about lung cancer and get connected to LUNGevity by ordering free brochures, booklets, and handouts. Ask your local hospital or cancer center if they have a place to distribute materials or better yet, ask if you can set up a table in their lung center!
4. Share your unique story.
Whether you are a patient, survivor, caregiver, scientist, or volunteer, your story is important! Sharing your lung cancer journey can provide hope or inspiration to help people struggling with similar issues. Or you may help others who haven't been personally affected by lung cancer realize that anyone can get lung cancer and that lung cancer needs to be a national health priority. You can also submit your story here and we just might spotlight your story in an upcoming LUNGevity blog!
5. Put the fun in fundraising for lung cancer!
There are an infinite number of ways to raise funds for LUNGevity to support lung cancer research, education, and support programs! Register for a Breathe Deep event in your community or come up with your own creative DIY fundraiser. If completing an endurance event is on your bucket list, join Team LUNGevity and cross the finish line on behalf of everyone impacted by lung cancer!
6. Attend the world's largest gathering of lung cancer survivors, caregivers, and advocates in Washington, DC this spring.
The International Lung Cancer Survivorship Conference is an informative, empowering conference in which participants hear from the experts on the latest in lung cancer research and treatment. Attendees will have special opportunities to connect with others affected by lung cancer, share their stories, and learn from and inspire one another! There will be special education sessions geared toward lung cancer advocacy. ILCSC will be held April 26-28 in Washington, DC! Registration is now open and there are various ways to offset the costs of registration and travel. You won't want to miss this!
7. Raise lung cancer awareness in your social network.
Join our team of volunteer Social Media Ambassadors, who raise lung cancer awareness on Facebook, Twitter, Instagram, and more! We'll give you all the tools you need to share compelling facts, stories, graphics, and videos, to help change the way people learn about, treat, and live with lung cancer. Apply here!  
8. Provide encouragement and support to a newly diagnosed patient or caregiver.
LifeLine Support Partners are lung cancer survivors or co-survivors (family members and caregivers) who have walked the lung cancer path. They volunteer to mentor and offer encouragement, advice, experience, and hope to those newly diagnosed and anyone needing additional support through a one-on-one personal connection by email or telephone. Learn more about the program and volunteer here.
Never underestimate the power of one person to make a difference! When you become a local lung cancer advocate, you join your voice with those of grassroots advocates across the country. Thank you for joining us in this fight against lung cancer.
Related Reading: