Posted on September 19, 2017 - 2:11pm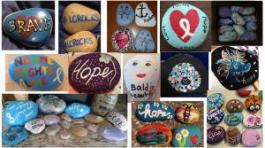 In 2016 Rayna Pitko went to see her primary care physician. She was having pressure on her chest and was worried.  At that office visit, her vitals were so concerning that her doctor immediately sent her to the ER where testing found a massive mediastinum mass.  She was ultimately diagnosed with stage 4 NSCLC in September of 2016 with a rare subtype called hepatoid adenocarcinoma.
According to Rayna, there is very little literature on her subtype of lung cancer, and with no solid protocol to follow with treatment, life has been full of uncertainty and anxiety. 
Rayna leads an active lifestyle and looks for ways to keep active and de-stress.  Some of those ways include activities with her dogs, interior decorating, furniture refinishing and her latest passion—rock painting.
For Rayna, rock painting is therapeutic and relieves stress and anxiety without taking up too much energy. When she noticed rock painting groups online and the growing popularity of using painted rocks to spread joy, she had an idea to pair her creativity with a purpose.
November is Lung Cancer Awareness Month and Rayna challenged our international LUNGevity community to join her in her efforts to raise awareness by painting rocks and leaving messages across the country.
"Once I had a purpose for painting rocks, I really got more interested.  I loved the idea that people were spreading encouraging messages with painted rocks, but now we are educating the public too—it's a perfect combo!" 
"You paint a rock and put #LCROCKS on the back. Then hide your rock in plain sight when you're out and about. We are doing it to spread joy and lung cancer awareness. The hashtag will be promoted on Twitter and Instagram so people who search for its meaning will learn about lung cancer."
Rayna wants the public to know that all you need are lungs to get lung cancer. 
"I'd love for #LCROCKS to become an internationally known movement for lung cancer awareness—to make it trend so we can get more research dollars to save more lives. Eventually I hope lung cancer is a chronic manageable disease so that there will be more survivors!"
There is a Facebook group, www.facebook.com/groups/LCROCK, that people can ask to join who want to participate in this global effort to raise lung cancer awareness.
---
Tag LUNGevity and post photos of your painted rocks or rocks that you have found with the hashtag #LCROCKS!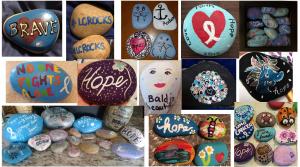 ---
Blog category:
-> Get involved
-> Survivorship