LUNGevity has materials available to help you learn and raise awareness about lung cancer, and to find out about our vital services and support for lung cancer survivors and their loved ones.
For Patients and Caregivers:
Select any and all of the resources below that are relevant to you. You'll find the facts you need in clear, reassuring language to help you be your own best advocate in your healthcare at this critical time. Some can even be downloaded and printed at home for your convenience.
For Healthcare Providers:
Many of these publications are ideal for educating your patients about their diagnosis or treatment. Limited quantities may be ordered through the form below; we are happy to ship larger quantities on request. Please email info@LUNGevity.org for more information.
For Advocates:
Help raise awareness of lung cancer by distributing LUNGevity materials in your community! Our Lung Cancer Facts card is a powerful tool for explaining why lung cancer is a concern for anyone, and the Improving Outcomes brochure provides an introduction to LUNGevity. And of course there are the ever-popular wristbands! Place your no-cost order below.
---
Patient Education Series Downloads
The booklets in this series are available as downloadable PDFs. To request one or more of these files, click the Request a Download button and complete the form. You will receive links to the booklets by email.
Lung
Adenocarcinoma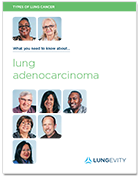 Biomarker
Testing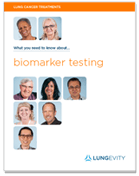 Clinical Trials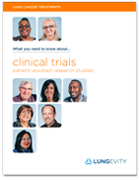 Immunotherapy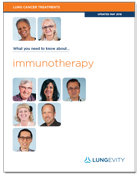 Squamous Cell
Lung Cancer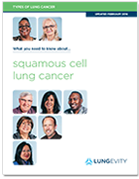 Targeted Therapy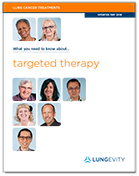 Chemotherapy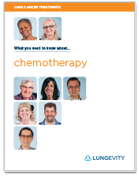 Stage I
NSCLC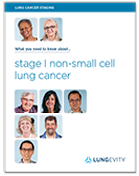 Stage II
NSCLC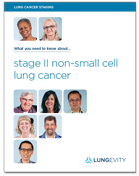 Stage III
NSCLC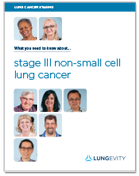 Stage IV
NSCLC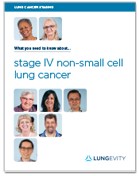 Small Cell Lung Cancer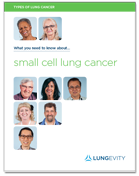 ---